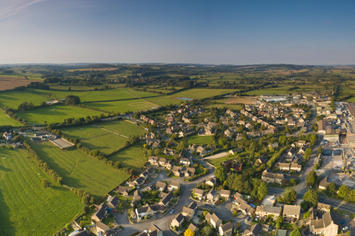 An article last month on NewGeography.com posited that farms, not golf courses, may be the more desirable suburban future.
. . . [S]tudies show that property viewing or abutting agricultural lands is as valuable as those overlooking the golf-course, maybe more so if residents can grow fresh, pesticide-free foods and reduce long-distance trucking.
(continued)
Amidst growing concerns about the environmental, economic, and social costs of the suburban development style prevalent in the latter half of the 20th century, there is a growing chorus of voices asking for alternatives.
Developers. . . are offering innovative lifestyles that may help re-define suburban development as living light on the land.

"America's land is less than six percent developed," says Philip Williams. "We are developing without regard for what we left behind, constructing 40 year life homes from trees that take 80 years to grow."

Almost like a financial world living on credit, and we've now seen where that has led us. But perhaps we can also change our suburbs, and our lives, for the better.
Whenever I read articles like this, I think of how fortunate Northfield is in its siting and location. We have opportunities here that many other communities don't possess, and I hope we grow our community in a responsible, creative way rather than repeating the mistakes of the not-so-distant past. Please read the article and tell me what you think – are these ideas relevant for us here, or not?